Water Heater Services in the Akron & Canton Areas
When your hot water heater fails it may no longer heat water properly or begin leaking from the bottom. In some cases it may be in need of repair and in other cases it might need to be replaced. Whatever the case may be it needs to be addressed immediately. We offer same day service on all major brands. Including Rheem, A.O. Smith, Bradford White, Reliance, Whirlpool and many more. No matter what brand or type of water heater you have in your home, at All Out Plumbing Service we can repair or replace it.
Need hot water heater service in the Akron & Canton areas? Call (330) 926-9965 to schedule water heater replacement or repair today!
Water Heater Replacement
When choosing a new water heater for your home, there are numerous factors to consider.
Type: Most commonly found in most residential homes is a 40 or 50 gallon hot water tank. They are usually the most cost efficient and require the least amount of maintenance.
Capacity: When choosing which size tank best fits your households needs, consider the number of people in your household and also how many bathrooms you have.
Efficiency: When heating water for a larger home that may have four or more bathrooms, it may be necessary to install two hot water heaters in your home to heat your water faster and more efficiently.
Cost: When choosing the right hot water heater for your home you may want to consider the annual cost to heat your water. Refer to the manufacturers specifications to determine that cost.
Types of Water Heaters
Conventional Water Heater
Typically found in most homes. These water heater tanks are available in 40, 50, 80 or 100 gallon sizes.
Power Vented Water Heater
In some cases your home might not have a chimney to vent your hot water tank and would require a power vented tank. These types of water heaters are equipped with a blow motor that vents the tank through P.V.C piping and routed to outside your home.
Tankless Water Heater
These types of tanks are very high in efficiency. This type of water heater will heat water on demand and dispense hot water much quicker throughout your home.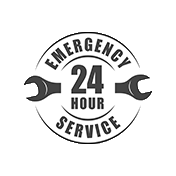 All Out Plumbing Service
774 Indian Trail
Akron, OH 44314
Speak to a Live Plumber 24 / 7