Drain Cleaning Services in the Akron & Canton Areas
We are the drain cleaning experts. Clogged drains are a major hassle. They can leave water in your basement and create a huge mess on the floor. We clean all types of drains including main drains, floor drains, sink drains, bathtub drains, and even downspout drains to name a few.
Main Drains: When your main drain backs up it can become a huge problem because all of your drains are connected to this drain. When all of your drains are affected you may see some warning signs, such as water going down one drain and backing up in another. That usually means the main drain is clogged and time to call a experienced plumber.
Floor Drains: We clean all types of residential floor drains. We have snakes and augers that can remove clogs from your drains without harming your pipes.
Bathtub, Sink and Toilet Drains: We can unclog bathtubs, sinks, and toilets. If you've tried commercially available drain cleaners or snakes to clean your drains and were unsuccessful, give us a call. We can clean out the toughest of drain clogs so that you can get back to using your bathroom or kitchen.
Downspouts: Downspouts are essential to draining rainwater away from your home. Typically, downspouts drain into the ground away from your residence. When they become clogged, they can drain water down your walls, into your crawlspaces and basements, and even into your foundation leading to horrific water damage. We have special equipment that allows us to clean your downspouts without damaging them.
Looking for drain cleaning services in your area? We are your local drain cleaning experts. Schedule online today or by calling (330) 926-9965

We Use Various Types of Equipment to Solve your Drain Issues
Industrial Snake
Some drains require heavier equipment to open. Our machines are equipped with all different sizes of cable and cutters to cut through the toughest clogs.
Drill Snake
When a tub or sink drain backs up it may require a drill snake to open. A drill snake is much easier to operate in tight spaces and creates very little mess.
Toilet Auger
A toilet auger is a tool designed to remove any obstructions or clogs in the drain. Since most toilet clogs occur in the trap the augers short cable is usually sufficient enough to break the clog.
Sewer Camera
When your sewer line becomes a continuous problem it may be cracked or broken. A sewer camera allows us to look inside and visually see any broken or damaged pipe.
We are your local drain cleaning experts. Contact All Out Plumbing Service and schedule online today or by calling (330) 926-9965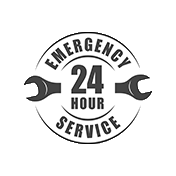 All Out Plumbing Service
774 Indian Trail
Akron, OH 44314
Speak to a Live Plumber 24 / 7