Schedule Service with All Out Plumbing Service Today
When you contact All Out Plumbing Service, you'll receive expert assistance and a highly trained professional, who will be able to resolve your plumbing issues in a timely manner. We provide full-service and repairs, 24 hours a day, seven days a week. Please call now or fill out the contact form to receive a quick response from a plumber today.
Contact All Out Plumbing Service and schedule online today or by calling (330) 926-9965
How much will my repair or replacement cost?
The cost of your plumbing repair or replacement will vary based on several factors and isn't something that we can accurately determine over the phone. When you call All Out Plumbing Service we will send an trained professional to your home who can diagnose your situation and provide you with the best options available for you to choose from.
What are your business hours?
Monday – Friday 9 a.m. – 5 p.m.
Saturday – Sunday 9 a.m. – 4 p.m.
24-Hour Emergency Service – Available 365 days a year
Do you offer emergency service?
Yes. We offer 24-hour emergency service. Call (330) 926-9965 now to speak to a live plumber 24/7.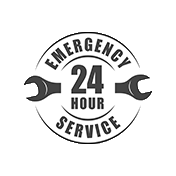 All Out Plumbing Service
774 Indian Trail
Akron, OH 44314
Speak to a Live Plumber 24 / 7